Events:
World Economic and Sport Conference 2016
The Department of Business Economics, Faculty of Commerce and Department of Physical Education jointly organized the World Economic and Sport Conference 2016 in association with Global Economist Forum and Global Sport Federation at MS University Vadodara. The programme is supported by United Nation ECOSOC.
In the backdrop of the United Nations 2030 Agenda for Sustainable development and sport's role in social progress, this International Conference offers a unique platform for experts particularly in Economics and Sports. It aims at focusing on the following themes:
Date – 7th Oct 2016
Economics for Sustainable Development
Sub Themes: Sustainable Development Issues Economics of Health and Sports Youth Employability and Employment Trade and Tourism for Development Green Economics
Date – 8th Oct 2016
Sports for Development and Peace
Sub Themes: Gender Equality through sports Sports and Peace Health and wellbeing Inclusive Participation
Participated as Guest speaker on Govt. Employment policy and presented the concept of CCI and its implementation.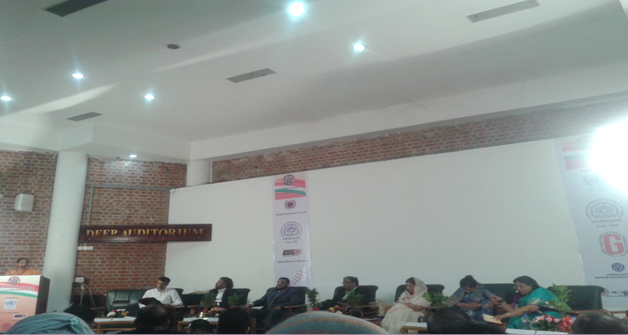 International Seminar on Employment Linked Skill Development
Government of Gujarat organized a Pre-Vibrant Gujarat 2017 Summit 'International Seminar on Employment Linked Skill Development' at Mahatma Mandir, Gandhinagar as a run-up to the 8th Vibrant Gujarat Global Summit 2017. Delegates to the summit cut across a varied group including Government Agencies, Industrial Players, Academia, Skill Training Providers, Learners and experts. The event was designed to provide a platform to all the stakeholders to participate in evolving a suitable mechanism for the execution of the strategies.
The program inaugurated by the Hon'ble CM, Gujarat Shri Vijaybhai Rupani, and also lightened the lamp with Hon'ble Minister Labour & Employment, GoG Shri Dilipkumar Thakore, Hon'ble Parliamentary Secretary, Labour & Employment, GoG Shri Punambhai Makwana, Hon'ble Principal Secretary, Labour & Employment, GoG Dr. Rajkumar Gupta, Guest of Honour Prof.Anil D.Sahasrabudhe (Chairman-AICTE), Guest of Honour, Ms.Marina Walter (Deputy Country Director,UNDP-India)
Dignitaries from different organization like UNDP,AICTC,CRISP,EU,CII and CCI were also presented their views on skill development and how its linked with Employment. The Director of Employment and Training, GoG, Managing Director, Gujarat Skill Development Mission given the vote of thanks