Publication: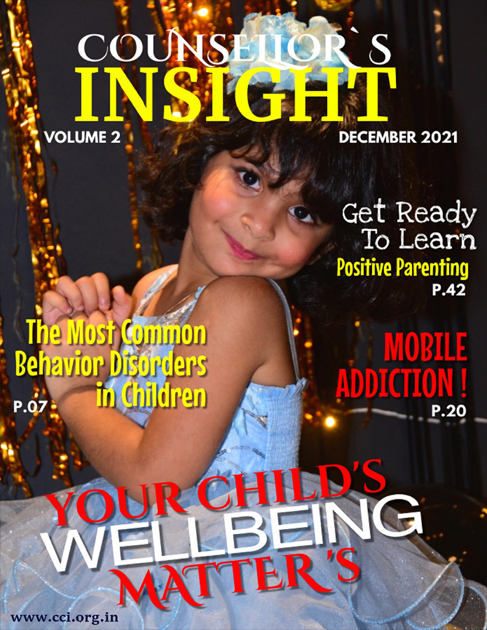 >> COUNSELLORS INSIGHT MAGAZINE
"A platform to come together, share and inspire"
The Counsellor Insight is more than a magazine, We at Counsellor Council of India are a community of counsellors, Psychologist or like-minded people who have come together to support, inspire and learn from one another. As an association of Counsellors, by coming together of a large number of Professionals, Organizations/Institutions of Counsellors to work for the advancement of Counselling profession in various disciplines and for enhancing the image of counsellors in society, by focusing on quality and accountability of counsellors.
We are passionate about improving the image of Therapies and Counselling and also the wellbeing of psychologist or Counsellors. We are dedicated to reducing stigma, by reframing mental health and easing access to services. The Counsellors Insight is about bringing people together through conversation and contribution. Supporting individuals, groups and companies to develop and grow.
Now almost five years since our launch, our National Advisor Body and the Counsellors Insight Editorial Board wishes to inform to all Respected Members of CCI that we are launching our first edition of Counsellors Insight Magazine form July 2021 and requesting all to become a part of our mission "To create a platform to come together, share and inspire"
The Counsellor Insight Magazine's small team continue to build on its successes. Developing even more exciting new ideas for the future. Many of which have come from you, our readership and engaged growing community.
If you'd like to get involved or 'write for us' then please get in touch. We're always happy to hear from you.
>> Guideline for the article
>> For publishing your Training / Workshop in the Counsellor's INSIGHT Magazine submit your request here
Download Previous Edition:
>> Counsellor's INSIGHT Magazine Oct. Edition
>> Counsellor's INSIGHT Magazine Jan 2022. Edition